This article was originally published on HotelTechReport on April 22nd, 2020, and can be read here.
Being a hotelier takes finesse and creativity.  You have to be both analytical enough to manage a hotel P&L and personable enough to consistently surprise and delight guests.  Staying current on great hospitality books is one of the best ways to improve your intellect and enhance your emotional IQ.
Ultimately, every great hotelier acts like a business owner responsible for everything that happens between the four walls of a hotel.  You have to handle situations ranging from a staff member who needs to be rushed to the ER for cutting their finger on the job to hiring talent and figuring out how to increase revenue per available room when occupancy is down.  Hospitality professionals get stretched in a million directions and are expected to excel at everything, always.
Due to the demanding nature of the hospitality industry, it's important to spend time educating yourself on a variety of different disciplines and lots of this requisite knowledge can be found in books.  Rather than tell you what books we think hospitality industry professionals should read we asked some of our friends who are top hotel GMs about the books that have helped them become the success stories that they are today. We got recommendations from GMs all around the world – from Belgium to Mexico, Spain to the United Kingdom and everywhere in between.
The book topics range from practical hospitality industry guides to productivity hacks, iconic leadership books and stories about how to be resilient under immense pressure.
Without further adieu – here are the 16 hospitality books most recommended by top hospitality executives.
1. Setting the Table (Danny Meyer)
2. How to Run a Great Hotel (Enda Larkin)
3. 100 Tips for Hoteliers (Peter Venison)
4. Nuts! The Southwest Airlines Recipe for Success (Kevin Freiberg)
5. The 7 Habits of Highly Effective People (Stephen Covey)
6. Emotional Intelligence (Dan Coleman)
7. Stay With Why (Simon Sinek)
8. I Like Giving (Brad Formsma)
9. The Obstacle is the Way (Ryan Holiday)
10. Leading with Questions (Michael Marquardt)
11. Zapp: The Lightning of Empowerment (William Byham)
12. How to Win Friends & Influence People (Dale Carnegie)
13. Freakonomics (Steven Levitt)
14. Switch (Chip Heath)
15. Don't Sweat the Small Stuff (Richard Carlson)
16. Good to Great (Jim Collins)
1. Setting the Table: The Transforming Power of Hospitality in Business
by Danny Meyer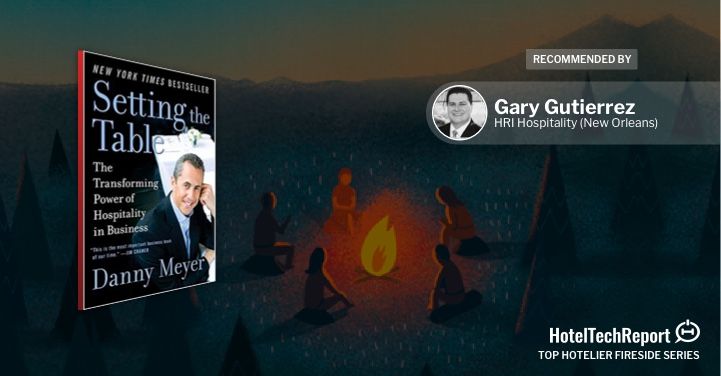 Recommended by Gary Gutierrez from HRI Lodging in New Orleans, LA
This is not a typical business book, and it's certainly not a how-to book.  For hoteliers, what's most meaningful is creating positive, uplifting outcomes for human experiences and human relationships. Running a hotel, like life, is all about how you make people feel. It may sound easy but this is actually pretty difficult to execute on. Danny Meyer, founder of Union Square Hospitality and the global hamburger empire, Shake Shack coins what he calls 'Enlightened hospitality.'  Danny's lessons help you put hospitality to work for first for the people who work for you, guests, community, suppliers, and investors — in that order.
2. How to Run a Great Hotel: Everything you need to achieve excellence in the hotel industry
by Enda M. Larkin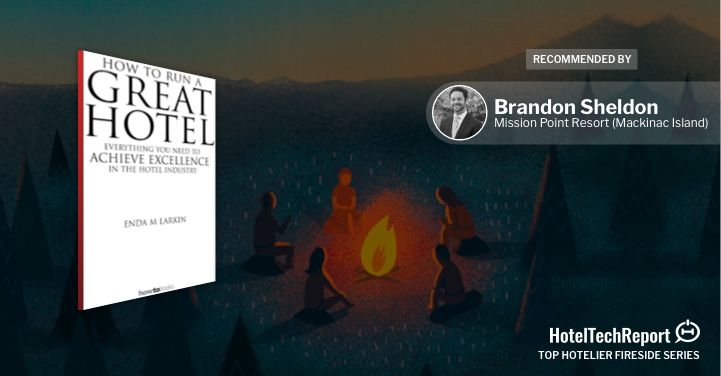 Recommended by Brandon Sheldon from Mission Point Resort in Mackinac Island, MI
According to Brandon Sheldon, GM of Mission Point Resort, "How to Run a Great Hotel really taught me to think about goals, but also how I will achieve the goals."  This book is based on the premise that being good is just not good enough in today's competitive environment. For hotel owners & managers who want to achieve lasting business success through a root & branch review of key business processes, 'How To Run A Great Hotel' is a 'must read'.
3. 100 Tips for Hoteliers: What Every Successful Hotel Professional Needs to Know and Do
by Peter Venison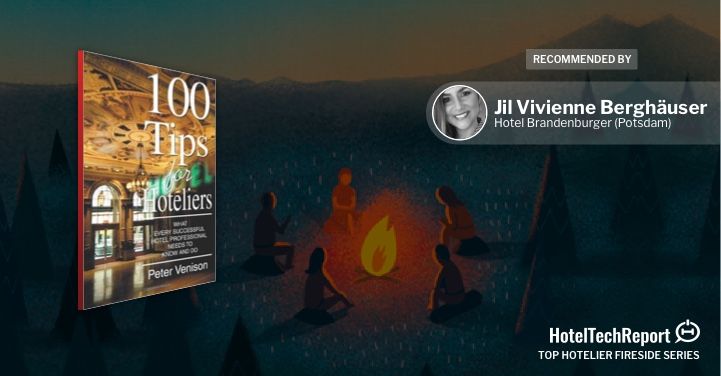 Recommended by Jil Vivienne Berghäuser from Hotel Brandenburger in Potsdam, Germany
Hotel Brandenburger GM Jil Berhauser told Hotel Tech Report that it's important to lead with passion: "[as a general manager] you must be passionate about your job. You must have a clear vision about what you hope to achieve and find ways to share this vision and passion with everybody in your team. – If you're not passionate about it, who else should? Not having complaints does not mean that you are satisfying your guests. Find time for feedback and listen to your guests. To meet guests effectively, a manager needs to be around in guest area at business time.  100 Tips for Hoteliers details the strategies that have helped Jil channel her passion into results.
4. Nuts!: Southwest Airlines' Crazy Recipe for Business and Personal Success
by Kevin Freiberg

Recommended by Xavier Moulin from SH Hotels & Resorts in Cabo San Lucas, Mexico
"Strategy and leadership publications offer relevant concepts and systems that are, in most cases, adaptable to a given business model. Beyond the theory however, lies a host of creative yet often unconventional solutions that have not only proven wildly successful in real life, but at times helped transform the very fabric of an industry. Immersing myself into the thought process and reasoning of business visionaries such as Kevin Freiberg in his book Nuts! helped me define fun and motivating productivity techniques that truly resonate with a team and are particularly well aligned with the emotional nature of our hospitality trade. Beyond the direct financial impact, the sheer associate engagement, fulfillment and retention observed as a result proved overwhelming."
5. The 7 Habits of Highly Effective People
by Stephen R. Covey

Recommended by Simone Harms from Sage Hospitality in Santa Clara, California, Campbell Lee from Quest Apartment Hotels in Melbourne, Australia and Alex Obertop from SIDE Hotel Hamburg in Hamburg, Germany
The 7 Habits Of Highly Effective People teaches you both personal and professional effectiveness by changing your view of how the world works and giving you 7 habits, which, if adopted well, will lead you to immense success.
Habits one through three are focused on self-mastery and moving from dependence to independence. Habits four through six are focused on developing teamwork, collaboration, and communication skills, and moving from independence to interdependence. Habit 7 is focused on continuous growth and improvement, and embodies all the other habits.  Hotel GMs can all relate deeply to these principles and for any GMs in a rut, Quest Apartment Hotels GM Campbell Lee told us, "7 Habits was a turning point for me. I was forced into reading it a decade ago by my GM at the time (which I did kicking and screaming!), but found it so engrossing to have a fully documented system for essentially being a better person; especially one that is so easily communicated to others you yourself are helping to mentor and grow. Within 6 months of reading it, I took the leap and quit my job and applied for a Hotel GM position without any prior experience, and have never looked back!"
6. Emotional Intelligence: The Groundbreaking Book that Redefined What it Means to Be Smart
by Daniel Coleman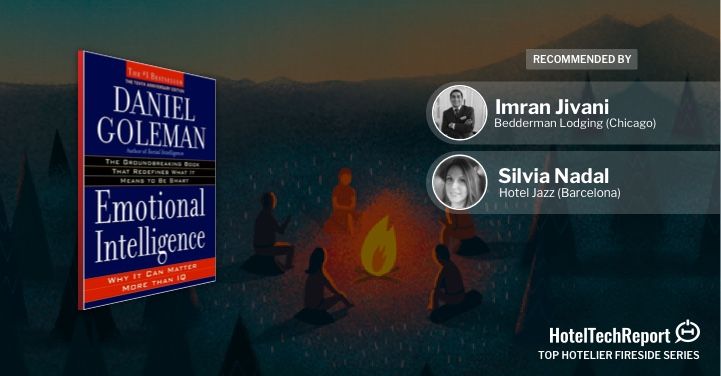 Recommended by Imran Jivani from Bedderman Lodging in Chicago, IL and Silvia Nadal from Hotel Jazz in Barcelona, Spain
Emotional Intelligence explains the importance of emotions in your life, how they help and hurt your ability to navigate the world, followed by practical advice on how to improve your own emotional intelligence and why that is the key to leading a successful life.  Being the general manager of a hotel can be highly emotional with extreme ups and downs. Understanding how to channel those emotions is absolutely critical for keeping your staff productive and happy.
"Understanding a person is much more complicated than a position, but that understanding brought on by emotional intelligence will help create a future leader who has a vested interest in the success of the company, property, and (most importantly) themselves," says Imran Jivani of Bedderman Lodging.
7. Start with Why: How Great Leaders Inspire Everyone to Take Action
by Simon Sinek
Recommended by Enoch F. Nimene from Bridge Hotel Group in New York, NY
and John Kirk Wright from Banyan Tree Companies in Roswell, Georgia
Start With Why is Simon Sinek's mission to help others do work, which inspires them, and uses real-world examples of great leaders to show you how they communicate and how you can adapt their mindset to inspire others yourself.  Sinek's belief is that the important thing is not what you do (run a hotel) but why you do it. It's important for hotel GMs to understand why they run their hotel – is it for profit? Is it to make guests feel at home? Once you understand and communicate your own motivations you'll be better able to motivate your team.
8. I Like Giving: The Transforming Power of a Generous Life
by Brad Formsma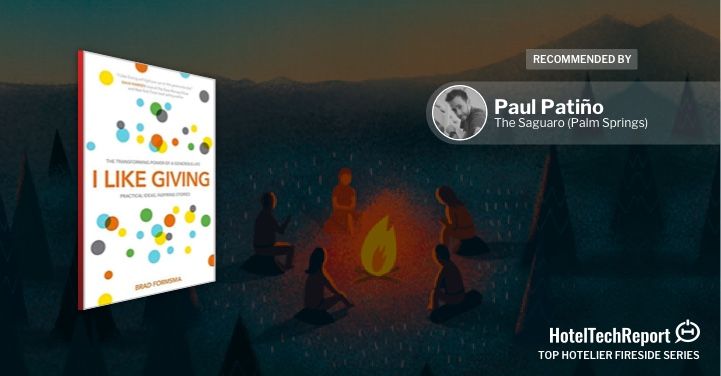 Recommended by Paul Patiño from The Saguaro Palm Springs in Palm Desert, CA
Paul Patino runs one of the most coveted hotels in California – the Saguaro Palm Springs.  Paul believes that the essence of being a great general manager is not in your ability to simply own the P&L but in your unique ability to give of yourself.  Paul told us that, "What I've learned in my long run in hospitality is that running an operation and answering to a P&L to ownership at the end of the month/year is all the same. Anyone can do it once they have had enough practice but the true challenge is being that leader that can move everyone in the same direction together and bring out the best in each person. Not everyone can do it and most days with social media and the world we live in, everyone wants that quick instant gratification. When in reality all great things take time, patience, and lots of love. The book I'm reading now is teaching me what I have done for a long time for others but just giving me a sharper knife. Doing right by others and leading by example, having a true connection with each person and inspiring them to be better versions than they already are is what's truly important in this industry now a days. Once you have that the whole operation runs itself and people or group of happy people can overcome any obstacle, move any mountain. This book highlights that in so many ways and I encourage you to read it if you haven't and go change someone else's life and most of all have fun discovering how much you can do for others with very little."
9. The Obstacle Is the Way: The Timeless Art of Turning Trials into Triumph
by Ryan Holiday

Recommended by Peter Smiley from Hotel Nexus in Seattle, WA
This book is a modern take on the ancient philosophy of Stoicism, which helps you endure the struggles of life with grace and resilience by drawing lessons from ancient heroes, former presidents, modern actors, athletes, and how they turned adversity into success, thanks to the power of perception, action and will.  Many CEOs joke that their job is to be a plumber, finding holes in their respective businesses and plugging those holes. As the CEO of their hotels, GMs are constantly facing obstacles and adversity – this book gives GMs tools to turn obstacles into success.
10. Leading with Questions: How Leaders Find the Right Solutions by Knowing What to Ask
by Michael J. Marquardt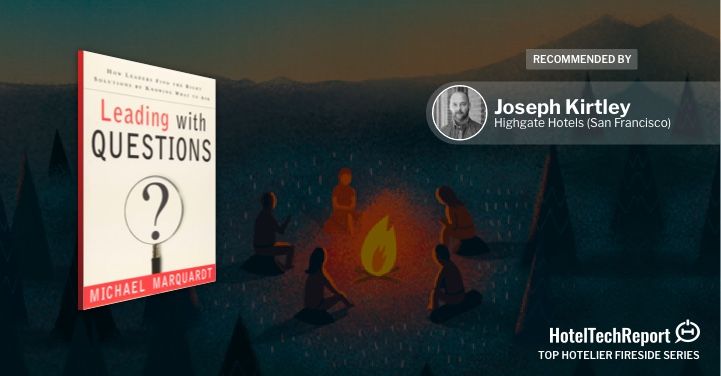 Recommended by Joseph Kirtley from Highgate Hotels in San Francisco, CA
This is a highly acclaimed book that blends theory and practice on a leadership skill that is universally appreciated but seldom illustrated – asking the right questions.  Joseph Kirtley, GM at Highgate Hotels says it best, "Leaders often feel that we are supposed to have all the answers. In actuality, being a great leader takes humility, and asking the right questions. Opening yourself to the strengths and knowledge of those around you takes you to another level."  Throughout the book, he demonstrates how effective leaders use questions to encourage participation and teamwork, foster outside-the-box thinking, empower others, build relationships with customers, solve problems, and much more.
11. Zapp: The Lighting of Empowerment
by William C. Byham, Ph.D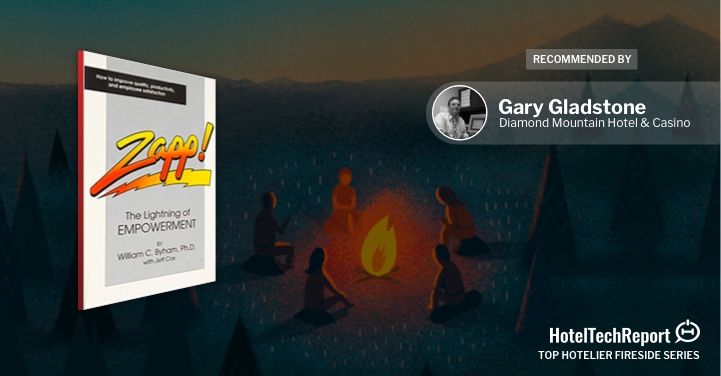 Recommended by Gary Gladstone from Diamond Mountain Hotel & Casino in San Jacinto, CA
"Zap taught me to think a different way. When making a decision about how to handle a guest problem I now remember to ask the agent involved their opinion and what they recommend," says Gary Gladstone of the Diamond Mountain Hotel & Casino.
Employee motivation is often a difficult idea to truly grasp, yet alone to influence and leverage. Yet, if companies are to continuously improve, as is necessary for survival and success, everyone in the organization needs to be engaged. Byham writes that people with this engagement (those who are "zapped") have "responsibility, a sense of ownership, satisfaction in accomplishments, power over what and how things are done, recognition for their ideas, and the knowledge that they're important to the organization."
12. How to Win Friends & Influence People
by Dale Carnegie

Recommended by Guillaume Verchere from Radisson Hotels in Brussels, Belgium
How To Win Friends And Influence People teaches you countless principles to become a likable person, handle your relationships well, win others over and help them change their behavior without being intrusive.  Many GMs even go on to take the Dale Carnegie course which teaches interpersonal skills and public speaking to help them become better leaders in their respective communities. Some of the concepts that Carnegie outlines seem intuitive and simple but are fundamental to creating and fostering strong interpersonal relationships.
13. Freakonomics: A Rogue Economist Explores the Hidden Side of Everything
by Steven D. Levitt

Recommended by Liutauras Vaitkevicius from Good Hotels in London, UK
Freakonomics helps you make better decisions by showing you how your life is dominated by incentives, how to close information asymmetries between you and the experts that exploit you and how to really tell the difference between causation and correlation.  This is a somewhat nontraditional pick for GMs but provides a valuable framework to think about incentivizing team members on property to consistently deliver the best experiences to guests.
Luitauras told Hotel Tech Report, "this book helped me to become more efficient, more effective in my work. Once I understand correlation, reasoning, needs of my guests and my team, I can make right decisions quicker. It has also taught me to look into data more closely and challenge 'old ways' of doing things. And that really pays off long-term in building structure, new processes and helping my team achieve more in shorter periods of time."
14. Switch: Hot to Change Things When Change is Hard
by Chip Heath &; Dan Heath

Recommended by Mohamed Elbanna from Four Seasons Hotels & Resorts in Palm Beach, FL
Switch is about how you can lead and encourage changes of human behavior, both in yourself and in your organization, by focusing on the three forces that influence it.  You might have heard the analogy of your brain as a rational rider, sitting on top of an emotional, stubborn elephant, trying to direct it, which makes it easier to understand how your brain's rational and emotional side work together.  Hotels are often thought of as slow to adapt when market dynamics shift and Heath gives a strong framework to help get your team ahead of changes to beat out the compset. Heath argues that what many think is resistance to change is actually just a lack of clarity around how to change.  Setup incentives correctly and give a clear path forward for your team and even ownership for that matter – you won't regret it.
15. Don't Sweat the Small Stuff: Simple Ways to Keep the Little Things from Taking Over Your Life
by Richard Carlson

Recommended by Rob Flinter from PPHE Hotel Group in London, UK
Don't Sweat The Small Stuff will keep you from letting the little, stressful things in life, like your email inbox, rushing to trains, and annoying coworkers who drive you insane and help you find peace and calm in the stressful world that is your hotel property.  This is a great book that gives you tools to cope with those days when it just feels like the whole world is on your shoulders and you can't do anything right.
16. Good to Great: Why Some Companies Make the Leap and Others Don't
by Jim Collins

Recommended by Heather (Dighton) Strauss from Prime Group US in Miami, FL
Good To Great examines what it takes for ordinary companies to become great and outperform their competitors by analyzing 28 companies over 30 years, who managed to make the transition or fell prey to their bad habits.  With companies like AirBnB and the OTAs, hoteliers are no strangers to disruption. Unfortunately this is just the beginning. While many GMs have thrown their arms up in defeat – there is still time to reinvent and out innovate some of these newcomers.